PROGRAM OVERVIEW
The Bachelor of Fine Arts in Interior Design (B.F.A.) program at AUD is aimed at producing a highly qualified career-oriented graduate who is able to integrate art, design, technology and business practices.
We aim to equip our students with the skills and knowledge to produce highly functional and aesthetically appealing interior environments.  The program is complemented with extensive Accreditation & Associations that position it on the global landscape. In addition, the program enforces ethical values in relation to the Interior Design profession, ethnic and cultural diversity and environmental considerations.
AUD is the first University in the region to offer Integrated Computational Design and specifically a Building Information Modeling (BIM) application course within its Bachelor of Fine Arts in Interior Design program. An emphasis in Hospitality Design is offered to students majoring in Architecture and Interior Design, allowing students to explore the hospitality field, and to understand and develop the topic in all aspects.
Program Details
The Bachelor of Fine Arts in Interior Design at AUD is a 124 credit-hour, four year program which aims to produce highly motivated, creative graduates, fully qualified and prepared for a career in interior design. The course is modeled on best practices as per recommendations from the Council for Interior Design Accreditation (CIDA). 
GOALS:
Learned cutting edge techniques by maintaining close ties with current design practices and industries;
Developed the necessary skills to be competitive in the global marketplace;
Developed high ethical values vis-à-vis the profession, cultural diversity, and environmental considerations;
Acquired high oral and graphic communication skills.
LEARNING OUTCOMES: 
Demonstrate an integrated method in designing interiors and space planning;
Discuss architectural conceptual design, history and theory by relating styles, movements and Philosophies to interior design;
Design interiors that acknowledge and integrate the human, sociocultural and economic aspects at the local, regional and global levels;
Demonstrate the ability to produce, analyze and present interior design by communicating clearly and effectively in oral, writing and graphical forms as well as advanced digital software and media;
Effectively apply technical skills in the areas of building materials, technologies, interior detailing, lighting, textiles and building codes to design aesthetically appealing and environmentally responsive interiors;
Produce design that demonstrates understanding of administrative, financial, legal issues as they relate to the practice of the profession of Interior Design and observe ethical standards.
All students must follow the specified course sequencing with more than 35 modules ranging from the Computer Aided Design (CAD) to Historic Restoration and Acoustics.
For full details on course sequencing and program details.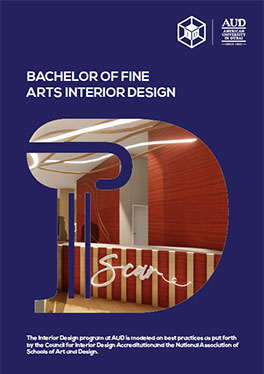 View the e-brochure
CIDA ACCREDITATION:
The interior design program leading to the Bachelor of Fine Arts in Interior Design (B.F.A.) is accredited by the Council for Interior Design Accreditation, www.accredit-id.org, 206 Grandville Avenue, Suite 350, Grand Rapids, MI, 49503.
The CIDA-accredited program prepares students for entry-level interior design practice, for advanced study, and to apply for membership in professional interior design organizations. The Bachelor of Fine Arts in Interior granted by the American University in Dubai meets the educational requirement for eligibility to sit for the National Council for Interior Design Qualification Examination (NCIDQ Exam). For more information about NCIDQ Exam eligibility visit: https://www.cidq.org/eligibility-requirements.
Facilities
The Department of Interior Design maintains several well-equipped and advanced computer labs and studio spaces.
Hardware is updated or upgraded on an annual basis and can accommodate all design-led software including 2D graphics, 3D modeling and rendering, 4D animations and walkthroughs.
A dedicated IT services team is on hand to help keep all resources running smoothly, as well as troubleshooting personal laptops.
In-house scanners, printers and large format plotting are all available.
A dedicated model and furniture making workshop is located on campus.
A design center serves to engage faculty and students in research and outreach to the architecture community at large.
A well-equipped lighting lab is located on campus.
ADMISSIONS ENTRY
All applying students must have:
A high school/secondary school certificate or equivalent from an institution accredited by the Ministry of Education in the U.A.E. or by the relevant national or regional institutional accrediting body;
International TOEFL®or Academic IELTSTM or the equivalent score on another internationally-recognized English exam. PBT is accepted from specific centers in the UAE.
The University administers the ACCUPLACERTMExam (Math) to place students at the appropriate mathematics level. Students may substitute the SAT for this, depending on the score.
 Students should consult with the Admissions Office for further details at admissions@aud.edu.
FACULTY
STAFF